Want to start collecting vintage jewelry, but you're not sure where to begin? I know the feeling. It can be overwhelming. So many designers, so many types of metals and stones, oh my!
The one rule of thumb I can offer is that if you like it buy it! Of course there needs to be some guidelines or you may find yourself needing extra storage space to hold all of your finds.
First ask yourself "what do I like?" Do you like earrings or maybe cats? Start collecting earrings from a particular era, designer or manufacturer. Look for cat pins from one designer, manufacturer or in a particular metal.
Secondly, ask your self why you want to collect? Will you wear your costume jewelry? Are you planning to sell your finds? Are you buying jewelry as an investment? All of these things will affect the type of jewelry you buy. Some vintage costume jewelry will command higher prices than others.
Once you've decided on a starting point arm yourself with information. There are many books and websites dedicated to the subject of vintage costume jewelry. Use them! Try our vintage costume jewelry library of jewelry articles for a good starting point.
Buy a magnifier or a jewelers loupe. I use a 10X. They are available at many stores and websites. I find my jewelers loupe invaluable. It helps me to read the jewelry hallmarks and inspect the stones and the setting. When you are examining the stones, you should look for variances in its color as well as chips or scratches. When you are examining the setting, look for signs of repairs and verdigris. Sometimes these flaws can only be seen with the help of magnifier or a jewelers loupe.
Places to Shop for Vintage Costume Jewelry
Rhinestone Shapes

Types of Finishes for Metals

Chaton

Dentelle

Heart

Marquise

Navette

Oval

Pear

Teardrop

Square

Point Cut- This is an ancient cut where the sides were polished and mounted this way. Point on top and bottom.
Table Cut- A cut used in the 14th and 15th Centuries. Natural points of the crystal were removed leaving a "table" or flat surface on top. Point on bottom [cutlet].
Sancy Cut- 5 sided table. Pear shaped stone that was rose cut like. From the 16th Century.
Rose Cut- The stone has triangular facets on the sides. The stone is cut so that a point is formed in the middle. Flat on the bottom. Pointy on top, no pavilion. Early 17th Century.
Mazarin Cut- Mid 1600s. A rough version of today's brilliant cut. Has 34 facets.
Peruzzi Cut- 17th Century. 56 facets. The first brilliant cut.
Old Mine Cut-
Metal Types
Base Metal ~ Non precious metal that is used as the core for plating.
White or Pot Metal ~ seen in older pieces it is an alloy of copper and lead.
Silver, Silver Plated
Gold Filled, Gold Plated and Gold Washed [also called Vermeil]
Rhodium
Japanning
Gun Metal
Testing Your Finds [Basic and Least Destructive Methods]

Notes:

Amber - Rub vigorously on wool and then try to lift a small piece of paper or tissue with the piece. Amber should lift it.
Bakelite- Should have no seams of mold marks. A thermoset plastic. Leaves a blue to black mark when scraped against pottery.

409 Cleaner: Spray a little on a cotton swab and rub on the item [find an inconspicuous spot] for about one minute. The tip of the cotton swab should have a faint yellow appearance. Not all bakelite will test positive using this method.
Hot Water: Place the item under hot water for about 30 seconds to one minute. You should be able to detect an odor of formaldehyde or varnish.

Bog Oak- Look for wood graining with your loupe.
Bone- Look for grain lines that run in one direction only with your loupe.
Casein- Use the hot water test. Should smell like burned milk. A thermoset plastic.
Celluloid- A highly flammable thermoplastic. Run item under hot water. You should detect a camphor like smell. Think Vick's Vapor Rub!
Cellulose Acetate- Using the hot water test your piece should smell like vinegar or emit a sour odor. A non- flammable thermoplastic.
Coral- Should feel heavy and it will effervesce if you place a drop of lemon juice on the item and view with a loupe. Be sure to wash the lemon juice off! It is acidic and will eat the plating/finish.
Crepe Stone- Glass. Look at the piece. The design should have a rippled appearance.
Crystal- Natural colorless quartz. Not the same as lead crystal. This should feel heavy and cold. Look at item and try to rule out lead crystal [glass with high lead content]. Consult gemologist.
Diamond- Rule out plastic and glass. A quick test is to blow on the item. If it "fogs" up, it is not a diamond. Look into the stone with your loupe, looking for refraction [diamonds are not doubly refractive] and angular inclusions that look like needles. You can purchase a diamond tester. Consult a gemologist.
Gemstones- Rule out plastic and glass. Loupe the piece. Most gemstones are doubly refractive and will have angular inclusions. Consult a gemologist.
Glass- Should feel lighter than gemstones, but heavier than plastic. Should feel warmer to the ouch than gemstones, but cooler than plastic. Loupe the piece looking for swirl lines or bubbles. Glass has distinctive sound when tapped.
Gutta-percha- Smells like burning rubber under hot water or when you rub the piece until it warms.
Horn- This protrusion from the head of an animal is often used in jewelry. Using the hot water test the piece should smell like wet fur/hair. Loupe the piece looking for irregular patterns and long grain lines. The cross sections should show concentric rings.
Ivory- Loupe the piece. Elephant ivory has a crosshatched appearance, while other types of ivory will have a grain lines that appear wavy.
Jade- Rule out plastic and glass. All three forms of jade will be cold to the touch and of medium heft.
Jet- Will leave a dark brown or blackish mark on pottery or ceramic tile.
Lucite- A trade name for acrylic. Use the hot water test. Lucite has no odor or may smell fruity of like flowers.
Marcasites- Loupe the piece. Real marcasites are usually held in with beads, not glued in. Most often set in silver. Sometimes used to surround gemstones. Tap lightly on your teeth to distinguish from plastic.
Moissanite- Use a tester or consult a gemologist.
Mother-of-Pearl- Use the teeth test. MOP should feel gritty. Effervesces when it comes in contact with lemon juice.
Pearl- Natural and cultured pearls should feel gritty when rubbed against your teeth. Most simulated pearls will not. An x-ray may be able to differentiate natural from cultured, however not always!
Shell- Effervesces when it comes in contact with lemon juice. It should feel lightweight and cool to the touch.
Tortoiseshell- Using the hot water test, this material should smell like wet fur/hair. Loupe the item looking for irregular patterns vs. a repeating regular pattern.
Vulcanite- Rub the item until it warms. it should smell like burning rubber. Could have mold marks. Will leave a brown streak rubbed against ceramic tile.

How to help determine what you have:

Look at you piece with the naked eye and with a loupe.
Tap the piece listening for its resonance
Tap the piece against your teeth
feel the heft of the piece. Smoothness of the piece. Is the piece warm of cool to the touch?
Smell the piece.

We do not recommend the hot pin test! Acid testing can destroy a piece if the acid is not washed of immediately following usage. Some materials cannot really be identified using only one testing method. The tests we have listed are a starting point only. It is always a good idea to test using many methods. Some gemstones need expert appraisals.

Some of the tools of the trade:

Presidium Duo tester
Silver and gold testing kit- comes with acids
In short, make sure you know about hallmarks, materials and metals, findings, stone cuts, periods and always take an items condition into consideration and you should do fine.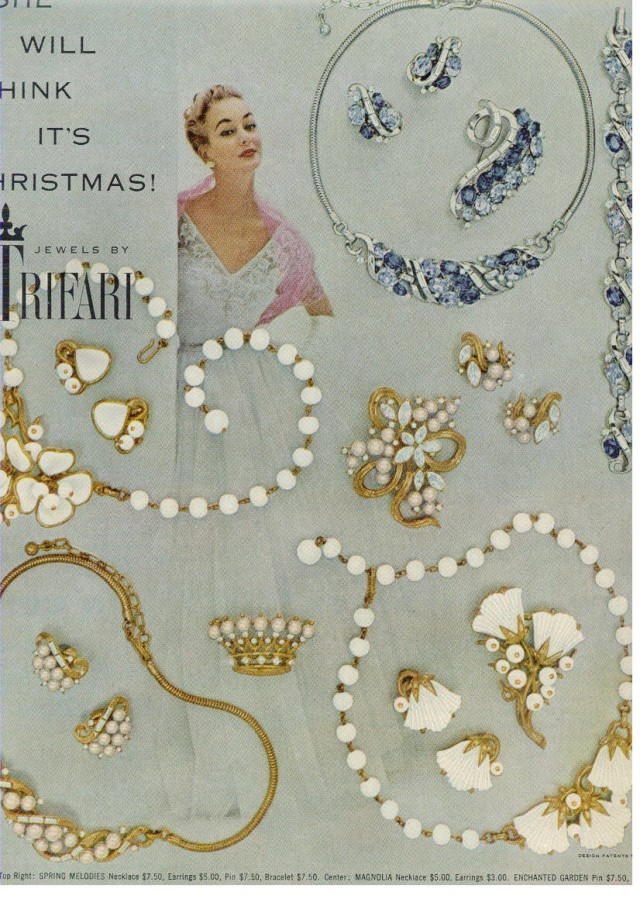 Vintage Trifari Ad From My Collection
Do's and Don'ts When Purchasing Vintage Jewelry
Do examine the item from all angles and preferably in natural light.
Do inspect the metal and findings for verdigris. It can be cleaned to some degree so you need to ask yourself if this is something you want to take on.
Do inspect and examine any moving parts. For example; if you are looking at a brooch, make sure the pin rod opens and secures properly.
Don't buy an item that is beyond repair. If the item has missing stones, ask yourself if you can replace them. There are many professionals that repair and restore vintage costume jewelry. This can be costly so you need to determine if the item is worth repairing.
Don't purchase an item with dead or dark rhinestones. If you want to have the dark stone replaced, ask yourself again about the cost of the repair. Sometimes you will find items like this in jewelry lot you purchased at auction or at an estate sale. If there are too many, pass on the lot.
Dating Costume Jewelry
There are several ways to try and date a costume jewelry item:
Designer Mark

Construction

Patent Number if Present

Advertisements

Findings and Fittings
Costume jewelry designers changed their hallmarks often. Look at the hallmark and compare it with hallmarks the designer used. Several websites have lists like this with dates included.
You can get a general idea of a vintage jewelry item's age by looking at how and with what material it was constructed. For instance, if you have a pair of aurora borealis earrings right away you know that these were most likely produced after 1955. The process was invented before that but not at all popular until then.
Sometimes you can date a piece of vintage costume jewelry by finding an advertisement with the item in it. If you are lucky you will find the ad in an old magazine. The magazine will have a publication date. That puts you in the ballpark. If you are luckier, the actual ad will have a reference to the date. Ads can also be purchased and lately several have been included in websites related to vintage costume jewelry, including this site.
In short...you need to be a jewelry sleuth, taking many things into consideration before a definitive attribution can be made.
Below is a chart that lists utility patent numbers for helping date antiques, collectables and jewelry. To research patents try the United States Patent Office.
Another site to try is: Google Patent Search This is a beta version subject to changes in the future.
A utility patent may be granted to anyone who invents or discovers any new and useful process, machine, article of manufacture, compositions of matter, or any new useful improvement thereof. A design patent may be granted to anyone who invents a new, original, and ornamental design for an article of manufacture. This definition is from the US Patent Office.
Amazing Adornments disclaims any liability for any errors contained in this chart or consequences relating to its use.
Utility Patents
| | |
| --- | --- |
| Year | Patent Number |
| 1836 | 1 - 109 |
| 1837 | 110 - 545 |
| 1838 | 546-1,105 |
| 1839 | 1,106-1,464 |
| 1840 | 1,465-1,922 |
| 1841 | 1,923-2,412 |
| 1842 | 2,413-2,900 |
| 1843 | 2,901-3,394 |
| 1844 | 3,395-3,872 |
| 1845 | 3,873-4,347 |
| 1846 | 4,348-4,913 |
| 1847 | 4,914-5,408 |
| 1848 | 5,409-5,992 |
| 1849 | 5,993-6,980 |
| 1850 | 6,981-7,864 |
| 1851 | 7,865-8,621 |
| 1852 | 8,622-9,511 |
| 1853 | 9,512-10,357 |
| 1854 | 10,358-12,116 |
| 1855 | 12,117-14,008 |
| 1856 | 14,009-16,323 |
| 1857 | 16,324-19,009 |
| 1858 | 19,010-22,476 |
| 1859 | 22,477-26,641 |
| 1860 | 26,642-31,004 |
| 1861 | 31,005-34,044 |
| 1862 | 34,045-37,265 |
| 1863 | 37,266-41,046 |
| 1864 | 41,047-45,684 |
| 1865 | 45,685-51,783 |
| 1866 | 51,784-60,657 |
| 1867 | 60,658-72,958 |
| 1868 | 72,959-85,502 |
| 1869 | 85,503-98,459 |
| 1870 | 98,460-110,616 |
| 1871 | 110,617-122,303 |
| 1872 | 122,304-134,503 |
| 1873 | 134,504-146,119 |
| 1874 | 146,120-158,349 |
| 1875 | 158,350-171,640 |
| 1876 | 171,641-185,812 |
| 1877 | 185,813-198,732 |
| 1878 | 198,733-211,077 |
| 1879 | 211,078-223,210 |
| 1880 | 223,211-236,136 |
| 1881 | 236,137-251,684 |
| 1882 | 251,685-269,819 |
| 1883 | 269,820-291,015 |
| 1884 | 291,916-310,162 |
| 1885 | 310,163-333,493 |
| 1886 | 333,494-355,290 |
| 1887 | 355,291-375,719 |
| 1888 | 375,720-395,304 |
| 1889 | 395,305-418,664 |
| 1890 | 418,665-443,986 |
| 1891 | 443,987-466,314 |
| 1892 | 466,315-488,975 |
| 1893 | 488,976-511,743 |
| 1894 | 511,744-531,618 |
| 1895 | 531,619-552,501 |
| 1896 | 552,502-574,368 |
| 1897 | 574,369-596,466 |
| 1898 | 596,467-616,870 |
| 1899 | 616,871-640,166 |
| 1900 | 640,167-664,826 |
| 1901 | 664,827-690,384 |
| 1902 | 690,385-717,520 |
| 1903 | 717,521-748,566 |
| 1904 | 748,567-778,833 |
| 1905 | 778,834-808,617 |
| 1906 | 808,618-839,798 |
| 1907 | 839,799-875,678 |
| 1908 | 875,679-908,435 |
| 1909 | 908,436-945,009 |
| 1910 | 945,010-980,177 |
| 1911 | 980,178-1,013,094 |
| 1912 | 1,013,095-1,049,325 |
| 1913 | 1,049,326-1,083,266 |
| 1914 | 1,083,267-1,123,211 |
| 1915 | 1,123,212-1,166,418 |
| 1916 | 1,166,419-1,210,388 |
| 1917 | 1,210,389-1,251,457 |
| 1918 | 1,251,458-1,290,026 |
| 1919 | 1,290,027-1,326,898 |
| 1920 | 1,326,899-1,364,062 |
| 1921 | 1,364,063-1,401,947 |
| 1922 | 1,401,948-1,440,361 |
| 1923 | 1,440,362-1,478,995 |
| 1924 | 1,478,996-1,521,589 |
| 1925 | 1,521,590-1,568,039 |
| 1926 | 1,568,040-1,612,699 |
| 1927 | 1,612,700-1,654,520 |
| 1928 | 1,654,521-1,696,896 |
| 1929 | 1,696,897-1,742,180 |
| 1930 | 1,742,181-1,787,423 |
| 1931 | 1,787,424-1,839,189 |
| 1932 | 1,839,190-1,892,662 |
| 1933 | 1,892,663-1,941,448 |
| 1934 | 1,941,449-1,985,877 |
| 1935 | 1,985,878-2,026,515 |
| 1936 | 2,026,516-2,066,308 |
| 1937 | 2,066,309-2,104,003 |
| 1938 | 2,104,004-2,142,079 |
| 1939 | 2,142,080-2,185,169 |
| 1940 | 2,185,170-2,227,417 |
| 1941 | 2,227,418-2,268,539 |
| 1942 | 2,268,540-2,307,006 |
| 1943 | 2,307,007-2,338,080 |
| 1944 | 2,338,081-2,366,153 |
| 1945 | 2,366,154-2,391,855 |
| 1946 | 2,391,856-2,413,674 |
| 1947 | 2,413,675-2,433,823 |
| 1948 | 2,433,824-2,457,796 |
| 1949 | 2,457,797-2,492,943 |
| 1950 | 2,492,944-2,536,015 |
| 1951 | 2,536,016-2,580,378 |
| 1952 | 2,580,379-2,624,045 |
| 1953 | 2,624,046-2,664,561 |
| 1954 | 2,664,562-2,698,433 |
| 1955 | 2,698,434-2,728,912 |
| 1956 | 2,728,913-2,775,761 |
| 1957 | 2,775,762-2,818,566 |
| 1958 | 2,818,567-2,866,972 |
| 1959 | 2,866,973-2,919,442 |
| 1960 | 2,919,443-2,966,680 |
| 1961 | 2,966,681-3,015,102 |
| 1962 | 3,015,103-3,070,800 |
| 1963 | 3,070,801-3,116,486 |
| 1964 | 3,116,487-3,163,864 |
| 1965 | 3,163,865-3,226,728 |
| 1966 | 3,226,729-3,295,142 |
| 1967 | 3,295,143-3,360,799 |
| 1968 | 3,360,800-3,419,906 |
| 1969 | 3,419,907-3,487,469 |
| 1970 | 3,487,470-3,551,908 |
| 1971 | 3,551,909-3,631,538 |
| 1972 | 3,631,539-3,707,728 |
| 1973 | 3,707,729-3,781,913 |
| 1974 | 3,781,914-3,858,240 |
| 1975 | 3,858,241-3,930,270 |
| 1976 | 3,930,271-4,000,519 |
| 1977 | 4,000,520-4,065,811 |
| 1978 | 4,065,812-4,131,951 |
| 1979 | 4,131,952-4,180,866 |
| 1980 | 4,180,867-4,242,756 |
Design Patents [Notice the "D" in front of the number]
Issue
Year

First
Design

1843

D000001

1844

D000015

1845

D000027

1846

D000044

1847

D000103

1848

D000163

1849

D000209

1850

D000258

1851

D000341

1852

D000431

1853

D000540

1854

D000626

1855

D000683

1856

D000753

1857

D000860

1858

D000973

1859

D001075

1860

D001183

1861

D001366

1862

D001508

1863

D001703

1864

D001879

1865

D002018

1866

D002239

1867

D002533

1868

D002858

1869

D003304

1870

D003810

1871

D004547

1872

D005452

1873

D006336

1874

D007083

1875

D007969

1876

D008884

1877

D009686

1878

D010385

1879

D010975

1880

D011567

1881

D012082

1882

D012647

1883

D013508

1884

D014528

1885

D015678

1886

D016451

1887

D017046

1888

D017995

1889

D018830

1890

D019553

1891

D020439

1892

D021275

1893

D022092

1894

D022994

1895

D023922

1896

D025037

1897

D026482

1898

D028113

1899

D029916

1900

D032055

1901

D033813

1902

D035547

1903

D036187

1904

D036723

1905

D037280

1906

D037766

1907

D038391

1908

D038980

1909

D039737

1910

D040424

1911

D041063

1912

D042073

1913

D043415

1914

D045098

1915

D046813

1916

D048358

1917

D050117

1918

D051629

1919

D052836

1920

D054359

1921

D056844

1922

D060121

1923

D061748

1924

D063675

1925

D066346

1926

D069170

1927

D071772

1928

D074159

1929

D077347

1930

D080254

1931

D082966

1932

D085903

1933

D088847

1934

D091258

1935

D094179

1936

D098045

1937

D102601

1938

D107738

1939

D112765

1940

D118358

1941

D124503

1942

D130989

1943

D134717

1944

D136946

1945

D139862

1946

D143386

1947

D146165

1948

D148267

1949

D152235

1950

D156686

1951

D161404

1952

D165568

1953

D168527

1954

D171241

1955

D173777

1956

D176490

1957

D179467

1958

D181829

1959

D184204

1960

D186973

1961

D189516

1962

D192004

1963

D194304

1964

D197269

1965

D199955

1966

D203379

1967

D206567

1968

D209732

1969

D213084

1970

D216419

1971

D219637

1972

D222793

1973

D225695

1974

D229729

1975

D234033

1976

D238315

1977

D242881

1978

D246811

1979

D250676

1980

D253796

1981

D257746

1982

D262495

1983

D267440

1984

D272009

1985

D276949

1986

D282020

1987

D287540

1988

D293500

1989

D299180

1990

D305275

1991

D313301

1992

D322878

1993

D332170

1994

D342818

1995

D353932

1996

D365671

1997

D377107

1998

D388585

1999

D403485

2000

D418273

2001

D435713

2002

D452599

2003

D468073

2004

D484671

2005

D500396
Another great resource is The Library of Congress Copyright Office
Questions? We are more than happy to try and help! Customer Support