At Amazing Adornments we offer you a wide selection of beautiful designer signed vintage costume jewelry - Pre 1970s with names such as Trifari, Weiss, Kramer, Coro Alice Caviness, Nettie Rosenstein, Miracle, Ciner, Hattie Carnegie, Miriam Haskell, Robert, Schiaparelli, Fred A Block, Silson and more!

Shop our online store and find beautiful vintage designer signed earrings, necklaces, sets, bracelets and fur clips all at amazing prices!

We love to seek out hidden treasures at estate sales, yard sales, old jewelry boxes or wherever we can find them. Please keep in mind that all of our items are used so please do not expect perfection. If the vintage item has a flaw we will describe it fully. Visit our online jewelry store to shop for additional products.
---
Please scroll down to view a featured item from the Signed Vintage Costume Jewelry Collection and some of our other jewelry collections.
Other Jewelry Resources on this Site:
---
<![if !vml]>

<![endif]>
Early Jomaz Glass Belly Birds on a Rhinestone Perch Pin

This pin is so cute! Two love birds, sitting on a perch of clear marquise cut and round rhinestones. One bird even appears to be singing to the other. The birds have pink glass bellies and green rhinestone eyes. The metal is rhodium plated and gold plated. The hallmark appears on the reverse.

Condition: Excellent vintage. Tiny spot of wear on the reverse in the setting where one glass cabochon is sitting.

Measurements: 1 7/8" wide and 1 1/2" long.
Unsigned beauties make up a good portion of our amazing costume jewelry offerings. You can see more at our on-line jewelry store. As you may know not all designers stamped their creations with a hallmark or makers mark. Many used paper or metal hang tags, some were put on cards bearing the name of the maker and others were never marked in any way at all. Hang tags were removed, original cards were thrown away so the identity of the maker is lost. A great example is D&E Juliana.

When you are looking at a particularly well made piece of vintage costume jewelry and you can't find a mark, you never know! Some items can be attributed by the way they are constructed or by the materials and techniques used. Some designers/manufactures used techniques that set their designs apart from others, such as the Sherman "hook and eye" construction. Miriam Haskell used a certain type of pearl and distinctive stampings. Others may have used these techniques and items, but it is a good starting point.

Often times it is possible to find your item in a costume jewelry book or magazine ad. Investing in several costume jewelry books will pay off in the long run.

It is also possible to attribute a piece of jewelry by finding it's mates. Again D&E Juliana comes to mind. We know that the five link bracelet is a design technique that was used by De Lizza and Elster. If you have a pair of earrings or a brooch that is a match for one of their bracelets you can safely attribute the item to D&E.

Follow these links to our Collecting Costume Jewelry Page or our About Costume Jewelry Page for additional fun stuff about costume jewelry.

<![if !vml]>

<![endif]>
DeLizza & Elster Juliana Five Link Bracelet

Fabulous Juliana bracelet that features the well known five oval links is set with luminescent mother of pearl discs and clear rhinestones. This glamorous bracelet closes with a fold- over clasp.

Condition: Excellent vintage. There is some minor plating wear on the clasp and to the links.

Measurements: 6 7/8" long.
Costume jewelry pre-owned and made after 1970 are also a part of our offerings. Also known as contemporary jewelry. these items included estate items. Some of this jewelry is designer signed, such as Iradj Moini, Gerard Yoska, Monet and Napier while others are not. They all have one thing in common, they are all beautiful! See more at our on-line jewelry store.

<![if !vml]>

<![endif]>
Iradj Moini One of a Kind Ruby and Art Glass Earrings ~ NEVER WORN

These current and glam earrings are from couture designer for Oscar de la Renta Iradj Moini. His designs are sold only at the most prestigious stores. His offerings have been featured at the Trop exhibit at the Louvre, in Vogue magazine and have been worn by the ladies in the TV show Sex in the City! As with all of Iradj's jewelry designs, these gorgeous brass metal earrings are hand made and set with imported glass stones. They are also adorned with smoky black diamond rhinestones. No two pieces of his jewelry are exactly alike! These are a great investment piece for the serious collector.

Condition: Mint! These earrings have never been worn.

Measurements: 3/4" long and 1" wide.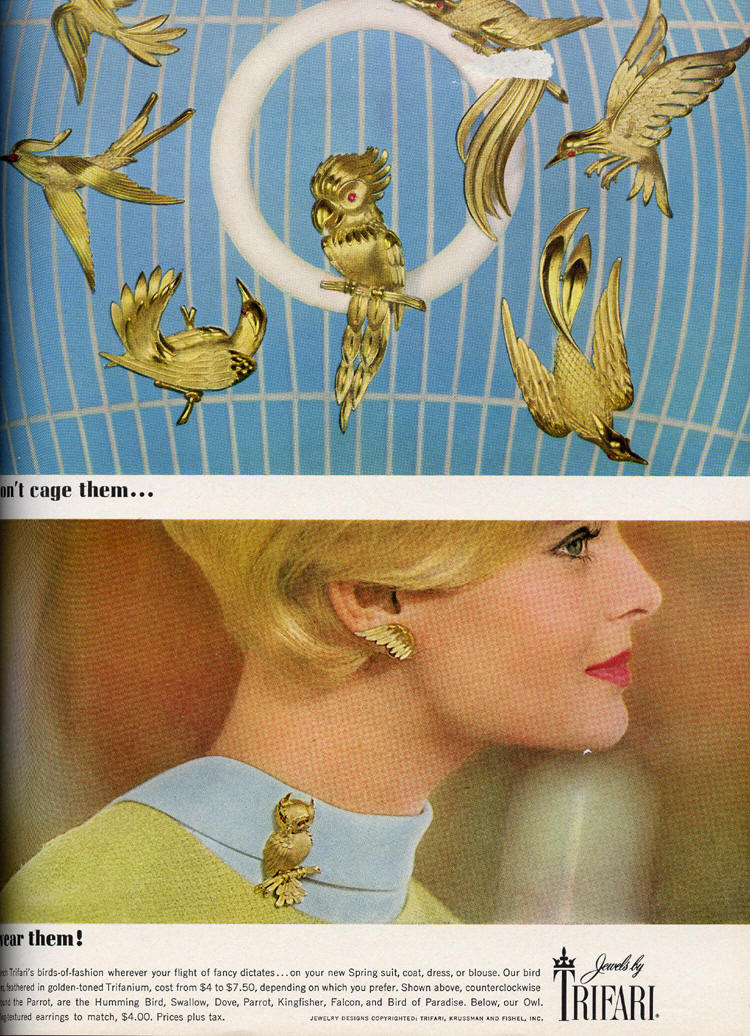 Vintage Trifari Ad
Our line of handcrafted costume jewelry featuring the finest quality sterling silver and genuine Swarovski crystals as well as other fine materials! Earrings, bracelets, anklets, crystal pearl Wedding jewelry and Prom jewelry are available. We love to design sets and feel free to design your own. Custom orders are available. You can see more at our on-line jewelry store.

<![if !vml]>

<![endif]>
Sterling Silver and Swarovski Sapphire Crystal Queen of Club Dangles

Created by the artisans at Amazing Adornments these elegant drop dangles were crafted using Genuine Swarovski crystal, and all sterling silver. The twist design in the middle is known as "Queen of Clubs" because it resembles the club in a deck of cards! For pierced ears.

Condition: New Measurements: 1 1/2" drop

$10.50