A Brief History of Costume Jewelry
Costume jewelry has certainly come a long way from the Georgian times when it was made for and worn by the kings and queens only to foil robbers! I often wonder what the makers of that day would think about the collectable jewelry market of today. Who could have imagined that a throw-away item would now be desirable and even costly in some cases.
So what exactly is costume jewelry? Well as you might have guessed, the market for expensive looking jewelry sort of created itself. Throughout history women wanted to look beautiful even with limited resources and they wanted what they saw the the rich wearing. Most working women could not afford jewelry made out of precious stones and gold nor could they shop in the boutiques of Haskell and her peers for higher end costume jewelry. Jewelry made out of rhinestones and other inexpensive materials fit the bill. They could afford to buy an inexpensive piece of jewelry to jazz up an outfit knowing that they could buy another when they were ready.
As I referred to above, not all costume jewelry was inexpensive and gemstones were often used. During WWII, when base metals were needed for the war effort, sterling silver and metal plated with silver, gold and rhodium were used to create some of the most sought after vintage jewelry today.
Costume jewelry reflects history and fashion trends. Fashion and jewelry are very closely associated and jewelry design movements sometimes grow out of social or political events. During and after WWI woman's clothing styles changed dramatically as did the type of jewelry and accessories they wore. Silhouettes changed, the bustle disappeared in favor of a sleeker look.
During the Art Nouveau period, artists tired of designs with so many flourishes opted for a simpler line. During the depression, jewelry made out of colorful plastic (Bakelite) and Art Deco rhinestones were in vogue for example. During this same period Coco Chanel started completing her outfits (costumes) with paste jewelry. I do not think that Chanel created the term, however I am sure she and her contemporaries such as Elsa Schiaparelli and Hattie Carnegie popularized the term.
During WWII many designers had to use sterling silver as the base metal for their creations. The United States government needed most other metals for the war effort. A thin layer of gold was often applied over the sterling. Vermeil or gold- wash, as it is sometimes called, was a finishing method used by many. Rhinestones were harder to find and you will see many wood pieces made during these years. Plastic pin backs were used instead of metal as seen on the Miriam Haskell brooches and clips of the 1940 war years.
After the war, costume jewelry began more widely accepted, produced and consumed. It was not until 1954 when the federal government passed the copyright law to protect designs that this form of jewelry was taken seriously however. After all, it wasn't' REAL jewelry, no precious stones! In 1962 the hallmark required law passed.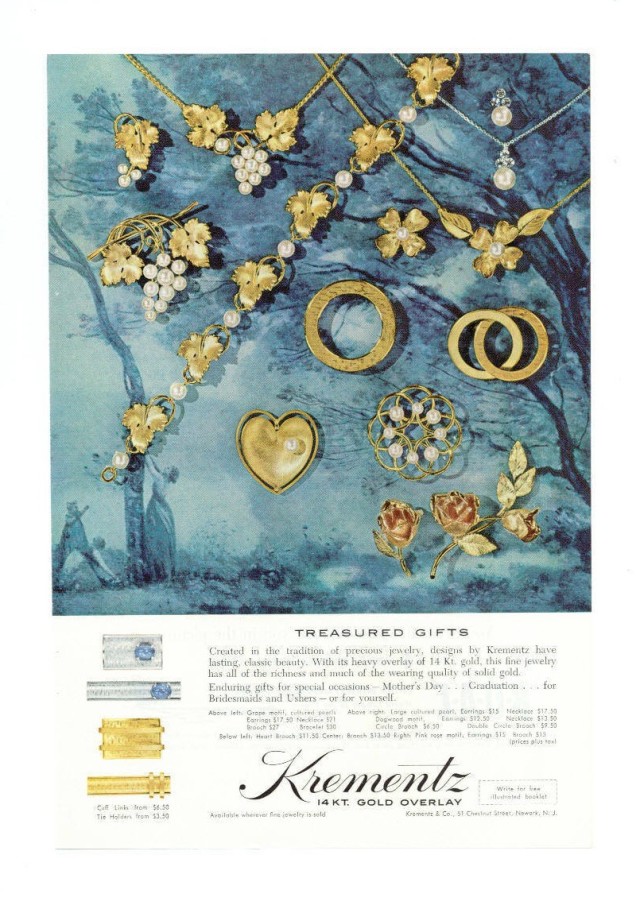 Vintage Krementz Ad From My Collection
What is vintage jewelry? Ask several people and you will probably get different answers. At Amazing Adornments we think of an item as being vintage if it was manufactured prior to the 1980s. See below Dating Jewelry by Definition. Check out our vintage jewelry patent chart for help in identifying when your jewelry find was manufactured. It has jewelry patents from 1836 to 1980.
Below are American and European jewelry timelines. These timelines are meant to be a brief history . Several of the periods overlap.
---
History of American Costume Jewelry
---
Period

Characteristics

Art Nouveau - 1890s -
Developed in the "French" Nouveau style. Prosperous age of Tiffany, art jewelry, naturalistic motifs. Mass produced sterling silver from the Unger Brothers, Gorham and William B. Kerr that depicted maidens with flowing hair, chased flowers and leaves. Enamels.
Art Deco - 1920s-1930s
Think Roaring Twenties, flappers, prohibition and the Ziegfield Follies. Glitter, long waistlines and long necklaces. King Tut's tomb. Geometric lines. Flexible bracelets, bangle bracelets and rings.

Art Deco's beginnings go back to the Bauhaus movement in Germany.

Retro - 1930-1950
Several of Europe's jewelry makers immigrate due to WWII. Elegance. Chokers, floral pins, bakelite, moonstones, horses, sweater clips, scatter pins and military motifs.
Art Modern - 1945 -1960
Post war. Understated styles. Tailored looks. Poodle pins, chucky bracelets and plenty of rhinestones!
The 70's
Natural themes. Native American influences, other ethnic influences, wood, bone and feathers. Brightly colored enamel.
---
History of European Jewelry
---
Era

Characteristics

Georgian 1714 -1836
Handmade jewelry, paste, pinchbeck, Rococo style, Gothic, Neoclassical
Victorian 1837 - 1900
Three Periods:

Romantic: light open work gold and filigree, chasing, repoussé die rolling and engraving. These techniques gave the illusion of heft in a time when gold and other metals were rare. Seed pearls, turquoise, and gemstones, natural materials, cameos, hair jewelry and jewelry with hidden messages.
Grand: heavy dark stones, heavy gold settings, jewels inspired by discoveries such as tombs in Egypt.
Aesthetic: whimsical motifs, star and crescent motifs, jewelry designers were more interested in quality of work.

Mourning [black] jewelry became popular after Queen Victoria's husband Albert died.

Edwardian 1901 - 1910
England- Time of change. New innovations. Use of swags, tassels and ribbon ties. Jewelry or the aristocracy.
Art Nouveau 1880 - 1914

France- [New Art] Overlaps Edwardian. Prosperous age of Lalique, Faberge, Boucheron, Cartier. Jewelry of the avant garde trickled down to the masses, inspired by nature. Japanese influences. Whiplashes. Moonstones, enameling and baroque pearls. The art of jewelry making is rediscovered. Craftsmanship and design are key. Reformist chic movement.
1896 - 1909 The Art Nouveau period in Germany. [Youth style]
Arts & Crafts 1890 - 1914
England- Another overlap. Jewelry inspired by nature, leaves, flowers, birds, copper, brass, silver from artists such as Charles Horner and Charles Robert Ashbee.
Art Deco - 1920s - 1930s
Jakob Bengel, Auguste Bonaz
Ultra modern, functional, geometric designs. Complete opposite of prior periods.
German Art Deco and Modernism - Bakelite, chrome, galalith, celluloid and acrylic. Bauhaus views shaped the Modernist and other movements to come.
Transitional Periods: Short periods of time where styles overlapped as one era moved into the next one.
---
---
| | |
| --- | --- |
| Antique | Jewelry that is at least 100 years old. |
| Vintage | 1. Jewelry made from 1920 to 1950 2. Jewelry made from 1920s -1970s or 1980s |
| Retro | Jewelry made in the 1940s that was usually gold-wash or vermeil over sterling. |
| Estate | Jewelry made from 1950s to present. This is usually fine, pre-owned jewelry not to be confused with jewelry purchased at an estate sale. At Amazing Adornments we include all non-costume jewelry from anytime period. This is not the official definition. |
These categories are not etched in stone [pun intended] they overlap and different people will use them differently.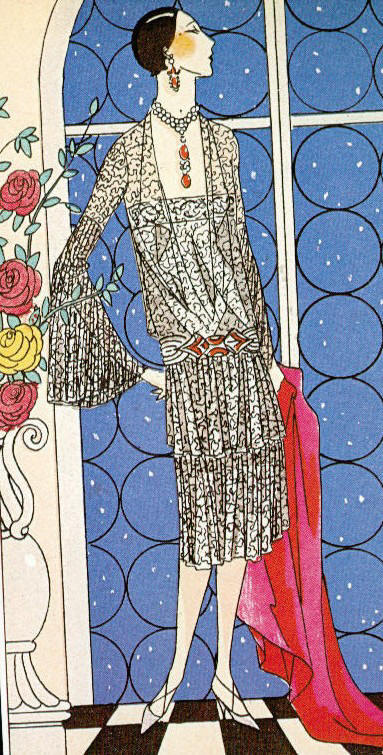 Other Jewelry Resources on this Site:
Questions? We are more than happy to try and help! Customer Support
Visit our Blog
Post questions, read site news and more!