Gablonz: A center of jewelry making in the Czech Republic, Bohemia.
Gagate: Fossilized coal also known as Jet. Used during the Victorian period for mourning jewelry, it is black and hard. It can be found in Whitby in England and also in Russia, Spain, Germany and France. Jet leaves a brown mark and it is warm to the touch.
Galalith: An early form of plastic developed in Germany in the 1890s that proved to be a welcome alternative to the flammable celluloid. Used to imitate horn, ivory and tortoise shell. Is was cost efficient , more durable than celluloid and was tolerant of heat.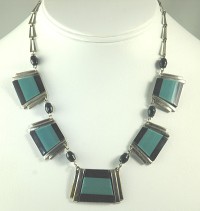 Jacob Bengal Art Deco Chrome and Galalith Necklace
Gallery: A strip of metal that is pierced and can be used as a mounting for gemstones.
Garland Style: A type of jewelry made popular by Cartier. It includes swags, bows and tassels and it was popular during the early 20th century.
Garnet: A group of many glassy minerals that are used as gemstones. The members of this group all share similar chemical structure. Pyrope is the common deep red garnet that was usually found in Victorian jewelry. Garnets come in many colors with the exception of blue. Some members of this family include: Andradite, Demantoid which is rare and green in color, and Melanite. There are many more. They are relatively hard. It was thought that the garnet would bring the wearer good luck. The red garnet is the birthstone for January.
Gaspeite: A semi-precious gemstone that is pale to intense green in color. It was discovered in 1966 in the Gaspe peninsula in Quebec Canada. At first it was discarded as a by-product on Nickel.
Gemstone: Now defined as an semi- precious or precious stone, mineral or rock. A gemstone was once considered to be a precious stone such as a diamond, ruby or sapphire.
Geode: A rock that is hollow or partially hollow with crystals lining the inner wall. The crystals are called druze.
Georgian Period: Covers the period of 1714 - 1830 in British history. This period was during the reign of Kings George I to IV. The reign of William IV [1830 - 1837] is included. All of the jewelry from this time was handmade. The styles ranged from Rococo to Gothic and Neoclassical. During the reign of King George the first, jewelry consisted of large extravagant stones. Diamonds were popular. In 1750 colored stones became popular. Pinchbeck [gold substitute] was developed. Cameos and Intaglios were popular and men wore jewelry.
German Silver: An alloy that is mainly copper with lesser percentages of nickel and zinc and tin [alpaca]. German silver is also known as nickel silver. There is no silver in German silver.
GIA: Gemological Institute of America
Gilding: A piece of jewelry or other item that is adorned with a thin layer of gold foil, gold or gold leaf.
Gilt: Coated with gold or something that looks like gold.
Gimmel Ring: Also known as the Twin Ring is a ring made out of two or more interlocking rings. It symbolizes the union of two people. It was designed during the renaissance and it was the choice of Martin Luther when he married Catherine Bora.
Gipsy Setting: Or the Star Setting is a setting that is recessed so that the stone fits into it. There can be engraved patterns around the setting that resemble stars. It was developed in the 1800s.
Girandole: A style of brooch or earrings where a large design element or stone has three smaller, usually pear shaped pendants similar to the larger element or stone suspended from it.
Girasol: A yellow or orange type of precious opal. Girasol means sunflower in Spanish.
Girdle: The edge of a stone that is formed where the top or the crown and the pavilion or the bottom meet. It is the widest part of a cut stone.
Givre: French for frost or frost over. Beads in this style have transparent glass fused around a translucent core.
Glass:

Both natural [obsidian and moldavite] and manmade

[mix of sand, potash and lead that is fused together] are used in jewelry. Manmade glass is used most often to imitate other stones. Natural glass is not.
Glove Ring: A clip that attaches ones gloves to another object such as a pocket of purse.
Glyptography: Engraving stones with an abrasive. This technique is used for cameos and intaglios.
Godet: Metal pan that hold cream or pressed powder within a compact.
Gold: A precious metal that when pure is very soft. Pure gold is 24Kt and is 100% gold. Gold is mixed with other metals, usually copper to make it stronger and less expensive. It is highly valued because it does not tarnish. It is the most malleable of all the metals and it is also ductile. The purity of gold is measured in karats. Gold that is alloyed comes in several colors including; pink, white and green. See chart.
Gold Doré: A bar of gold that has been through the first stage of the purification process. It is about 90% pure.
Gold Electroplate: A process by which metal is coated with a thin layer of gold or an alloy that is no less than 10 karats and no less than seven millionths of an inch in thickness.
Gold Filled: An item of jewelry made of base metal that has been coated mechanically with a layer of gold. The weight of the amount of gold must be equal to 1/20 of the weight of the item. Here is an example of how Gold filled jewelry is usually marked 1/20 G.F. 12 Kt. This means that the item was coated with 12 Kt gold and that the item is at least 1/20 gold.
Gold Plated: Base metal jewelry that has been coated with an extremely thin layer of gold by the process of electroplating. Jewelry that has received this treatment is usually marked G.P.E.
Gold Stone: Is Aventurine that has fine gold colored inclusions. Goldstone also refers to manmade glass stones with copper inclusions.
Gold Tone: Refers to a piece of jewelry that has been finished in a gold color. There is little if any gold in a gold tone item.
Gold Washed: Jewelry of other items with a thin layer of gold applied to the surface. This thin layer, less than .175 microns in thickness, is applied by dipping or burnishing the metal. It is less durable than gold filled jewelry or electroplating. Popular in the 1940s during WWII.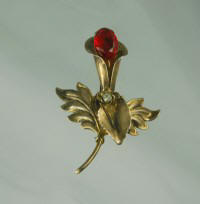 Gold Wash over Sterling Brooch Signed Jolle
Gothic Revival: In terms of jewelry it is a style that imitates motifs of jewelry popular in Europe in the 18th century.
Graduated: When used to describe a necklace it means that the beads go from larger in the front and decrease in size towards the back.
Grain: A measure of weight for natural pearls and diamonds. Four grains are equal to a caret.
Gram Weight: The weight measured in grams of metal used in jewelry.
Granite: A common plutonic and indigenous rock that is coarse grained and has a visible crystalline texture.
Granulation: Applying decorative grains of metal to an object. These tiny beads are soldered and form a pattern on the object. This technique was sometimes used in Etruscan Revival jewelry.
Grape Garnet: Found in northwestern India, these are rare violet to deep purple-red garnets made of almandite and spessartite.
Greek Key: A design pattern of interlocking and repeating geometric shapes.
Green Diamond: Rare and valuable fancy diamonds.
Green Garnet: A demantoid garnet that was popular in the 1800's. They are rare and have inclusions that look like horsetails.
Green Gold: Gold that has been alloyed with a high silver content and other metals including copper.
Greenstone: Also known as Nephrite it is a volcanic rock and a variety of jade.
Grelot: Beads that have an elongated and pendant shape.
Grey Gold: Gold that has been alloyed with 15-20% iron.
Griqualandite: A South African Tiger-eye gemstone with bands of yellow and brown that when viewed from the opposite direction the colors are reversed.
Grooved: A long narrow channel that is routed in a line.
Grossularite: A garnet that is pale green, black, pink or brown and is translucent.
Guilloché: A type of enameling where a design is engraved and then coated with a translucent enamel so that the engraving shows through.
Gunmetal: A type of bronze that is nine parts copper and one part tin.
Gutta Percha: A rubber formed from resin or sap of the Gutta tree. Used to make jewelry in the 1800s.
Hair Jewelry: Jewelry containing locks of hair usually from a loved one. It was mostly preserved in a locket or woven into bracelets, chains or earrings and given as affectionate mementoes. This style of jewelry was popular during the mid 1800s. Very desirable and collectable today.
Half-hoop: A ring, bangle or a bracelet where only half of the item is set with stones.
Half-hoop Design: A ring that is similar to an earring but does not form a complete circle.
Hallmark: A mark or a series of marks impressed into metal to indicate the fineness of the metal, the country of origin, the designer or manufacturer. Hallmarks may also contain the date of assay or manufacture or the date a design was registered or patented. Hallmarks are a way to protect consumers against fraud which was prevalent in the past. In many countries precious metal has to be stamped with a quality mark. If the item says sterling it must contain .925 [92.5%] parts silver. These countries may also require that the item be tested by an official agency prior to stamping. In the USA precious metal does not have to be marked for quality. If a quality mark is present the piece must also contain a registered trademark. The issuing body is the United States Patent and Trademark Office. Many jewelry items in the USA contain trademarks that are not registered. A hallmark can also be found on metal or paper tags.
Hammered: To dimple, shape or texture a piece of metal with a hammer.
Hardness: Hardness is measured by the Mohs Scale of Hardness and it is the ability of a stone or surface to resist scratching.
Heishe: A Pueblo term that means shell. This is the oldest form of jewelry in New Mexico. Heishe refers to pieces of shell that have been ground into beads that were then used to make necklaces. Other material such as lapis and turquoise were/are also used.
Helenite: Manmade green glass processed from rock dust taken from near Mt. St. Helens volcano in Washington State. This is not volcanic ash.
Heliotrope: A type of chalcedony that is green with red spots that look something like blood. It is also known as bloodstone.
Hematite: A natural iron oxide. It is a bluish to black or silvery opaque stone that turns to red when ground.
Herringbone Chain: A flat chain that is created by small slanting links resembling the spine of a herring.
Hessonite: Sometimes called " cinnamon stone" this is a form of grossular garnet and this gemstone is transparent.
Hidden Box Clasp: A type of clasp that when secured only the release lever is visible. This type of clasp is hidden underneath the last link of a chain.
Hook and Eye Clasp: A finding used to connect two sides of a bracelet, anklet or necklace. It is comprised of a hook on one side and a ring [eye] on the other. The hook is latched to the ring to fasten the item.
Hoop Earrings: An earring that is circular in shape and made out of wire or tubing.
Howlite: Named for its founder, a Nova Scotia geologist Henry How, this soft white mineral with gray or black inclusions can easily take to dye. It is often dyed to imitate turquoise.
Hunting Case: 1. A pocket watch with a lid on the front and on the reverse. 2. A watch that has a lid that can be opened by pushing on the crown.
Hyacinth: A type of zircon that ranges in color from orange- yellow to yellow-brown. This semi- precious stone can also have an amber like color.
ID Bracelet: An ID bracelet is one with a plaque that is engraved with the name of a person, usually the wearer. ID is short for identification.
Imperial Jade: Another term for emerald jade.
Imperial Topaz: The most valuable topaz. It is rare and yellow-orange in color.
Imperial Mexican Jade: A calcite that has been dyed green. It is not jade.
Inclusion: A flaw such as a foreign matter or a particle that is naturally occurring in a stone.
Indicolite: A blue-green tourmaline.
Ingot: Metal that has been cast into a particular shape, usually a bar.
Inlay: Layering or embedding a piece of glass, stone or other material upon another. The receiving surface is cut and the second material is embedded.
Intaglio: A method of engraving or carving a design below the surface of an object such as metal or stone.
Invisible Necklace: Also called a floating necklace. A necklace in which the beads a strung far apart on almost invisible wire or thread.
Invisible Set: Gemstones set side by side with no metal between them and usually in two or more rows.
Iridescent: To have a rainbow like appearance when viewed from different angles.
Iridium: A hard yellow-white metallic that is part of the platinum family. It is often used with platinum to make it more workable.
Iron: An element that is heavy, ductile and magnetic. It is silvery-white in pure form and it easily rusts. It usually does not have any luster except in its pyrite and marcasite forms.
Irradiation: The method of exposing a gemstone to high-energy radiation to change its crystal structure. This process is often used to change a stones color.
Ivory: Animal ivory comes from the tusks or teeth of elephants and mammoths. It is one of the oldest materials used to make jewelry and other adornments. Similar to bone in composition, but ivory does not have a blood vessel system, making it more dense than bone. Ivory can be white or yellow. Synthetic ivory is made from plastic like celluloid. French ivory is a synthetic type of ivory. Vegetable ivory comes from nut of plants found in South America.
Jacinth: Another name for Hyacinth.
Jade: A natural hard stone that is usually green in color. This semi-precious stone can also be found in lilac, close to brown and black and almost white. There are three types of jade- Jadeite, nephrite and chloromelanite.
Jade Glass: Imitation jade that is green and translucent.
Jadeite: A rare and more valuable type of jade. It is hard and translucent and comes in a variety of colors.
Japanned: Refers to a black varnish used to finish jewelry.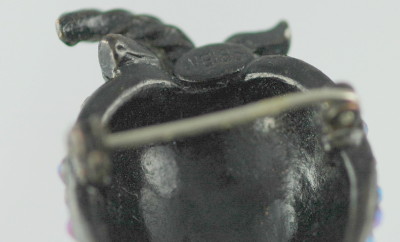 Weiss Strawberry Rhinestone Pin with Japanned Backing
Jasper: A form of quartz that is common. It is an opaque member if the chalcedony family that can be found in many colors including stripes.
Jasperized Wood: Wood that has fossilized, becoming stone like in appearance.
Jasperware: Stoneware that is matte in finish. It is usually blue and white but can be found in other colors. This technique was made popular by Josiah Wedgwood.
Jelly Belly: Jewelry, usually an animal that has a clear acrylic, Lucite stone at the belly or at the center of the item, usually a pin. Created by Trifari in the 1940s and copied by others including Coro.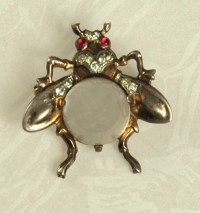 Trifari Sterling Jelly Belly Fly Pin
Jet: A type of wood that has been fossilized. Jet is related to coal. It is hard and very light in weight. Most natural Jet is mined in Whitby, England. It is black in color or dark brown and was often used in making the mourning jewelry popularized by Queen Victoria after her husband died in 1861. Synthetic Jet is made of glass, horn, gutta-percha, onyx and bog-oak. French Jet is not Jet, but actually black glass. Jet will smell like burning coal if pricked with a hot pin tip.

Antique Whitby Jet Brooch with Carved Acorns
Jewelry: An adornment for the body made from metals that can be set with stones, glass or other material.
Job Lot: Merchandise sold together in one lot.
Jobber: [1] A person who buys job lots for a manufacturer or a wholesaler to be used in a specific display. [2] A manufacturer or wholesaler that manufacturers jewelry by the job for a another company. De Lizza and Elster, the makers of Juliana jewelry were the jobbers for many companies including, Kramer, Weiss, and Alice Caviness.
Jugendstil: Means "Youth Style" in German. It was a style that was popular in the late 19th and the early 20th century. The term originated in 1886 when it was first published in the weekly Jugend which was a trend-setting publication. It is similar to the Art Nouveau style. The motifs were characterized by curves, floral and naturalistic flowing designs.
Jump Ring: A finding for jewelry making that is small, circular or oval and that is used to connect items to a chain or to attach to other rings. There is usually an opening in the ring that is pressed shut.
Karat: A measure of the fineness of gold. Abbreviated "Kt". Pure gold is very soft, so it is often alloyed with other metals to give it strength. The gold item is then marked to show the amount of actual gold in the piece. 24 karat = pure or 100% gold, 18 karat = 18/24 or 75% gold, 14 karat = 14/24 or 58% gold, 12 karat = 12/24 or half gold and 10 karat = 10/24 or 41.7% gold. Early jewelry made before the 20th century was not marked. Other marks found on gold are: 750= 750 parts gold out of 1000 for 18 karat gold and 585 for 14 karat.
Karatclad: Gold electroplating that is 14 times higher than is required for marking purposes. It is harder and does not tarnish as easily. It was the first heavy gold electroplating.
Keeper Ring: A less valuable second ring that is used to keep a more expensive ring on the finger.
Keystone: A stone that has been cut in the shape of a keystone. They are usually step cut with many facets parallel to the edge of the stone.
Kidney Wire: A type of earring finding for pierced earrings. They date back to the 1870s and are still in use today.
King Cut: Used for large diamonds this is a variation of the brilliant cut that has 86 facets.
Kunzite: A gemstone that looks like rose quartz and that fades in bright light.
Kyanite: A mineral that is blue-green, gray or white. It is an aluminum silicate. The name comes from the Greek "kyanos" which means blue. It has a columnar crystal habit.
Lab Created Stone: A manmade stone that mimics the structure of a natural stone. They are less expensive than their natural counterparts. These are not "fake" stones.
Labradorite: Part of the feldspar group, it is a dull gray mineral unless viewed from certain angles.
Laminate: To cover with a thin layer/sheet of a material.
Lampwork: Beads made by hand by manipulating hot glass and wire. Millefiori is an example of a lampworked bead. This technique was invented in Murano, Italy.
Lanyard: Also spelled laniard, this is a rope or a cord that is worn around the neck and is intended to carry an object.
Lapidary: [1] A person who cuts, engraves and polishes gemstones. [2] A person who deals in gemstones.
Lapis Lazuli: A deep blue opaque semi- precious stone who's history as a gemstone goes back to 5000 BC. This rock consists of many minerals including; calcite [white veining] pyrite [yellow flecks] and sodalite [blue]. It is often dyed to enhance its color and it scratches easily.
Lariat: A necklace that has both ends dangling rather than clasped. The wearer can tie both ends into a knot. Some lariats have a snap to secure the ends. Miriam Haskell's company produced many necklaces in this style.
Laser Drilling: The process of removing flaws from a gemstone by drilling a small hole and removing the inclusion.
Lathe: A machine that is used to turn metal or wood.
Lava: Molten rock that comes from volcanoes. Lava jewelry was popular in the nineteenth century. Lava jewelry is actually made out of Limestone.
Lavalier: A necklace or an earring with a pendant that has a stone or stones dangling from it.
Lead: A chemical element that is soft, heavy and toxic. It is metallic and malleable. It is bluish white in color when freshly cut, but will tarnish to a dull gray.
Lead Crystal: Glass that contains at least 24% lead oxide. English glassmaker George Ravenscroft developed this process in 1676.
Leather Cord Jewelry: Beads, shells and other items strung on leather to make necklaces, bracelets and anklets.
Lever Back: An earring finding for pierced ears that bends and attaches behind the ear with a hinged lever.
Limestone: Used to make jewelry, mostly cameos in Italy during the mid- 19th century. Some call this Lava.
Limoges: A company from France that produces fine china.
Linde Star Sapphire: A synthetic star sapphire developed in 1967.
Lobster Claw Clasp: A jewelry finding that is used to connect one end of a bracelet, necklace or anklet to the other end. This finding has a spring that when depressed opens the clasp. The clasp looks a bit like the claw on a lobster, thus the name.
Locket: A pendant or a case that opens and often contains hair, a picture or other memento.
Lorgnettes: Eyeglasses that have a long handle used to hold the glasses to the eye. Also called opera glasses, they are small binoculars.
/color>
Lost Wax Casting: A method of casting metal that has been around for 1000s of years and is still used today. An original object is made of wax or clay and then a mold of plaster or latex is made of the original object. Very hot wax is then poured into this mold producing a copy of the original. This copy which is hollow is then removed. The seams are smoothed over with a hot metal until it looks like the original. Once this is accomplished, more wax is applied that will provide the path for hot bronze to flow into. This is now dipped in wet a ceramic substance and then into a mixture of sand plus powered clay. This coated object is placed in a kiln. Once hard, this ceramic object is taken out of the kiln and cooled. It is tested to make sure there can be no leakage. It is placed back into the kiln, then into sand where hot bronze is poured into it. This shell is allowed to cool. After it is cool the shell is taken off. The remaining bronze is then smoothed and given patina. Known as cire perdue in French.
The brass beads used in this necklace were created using the lost wax casting method.
Lucite: A thermoplastic [acrylic] resin that is strong and hard. It is clear, but can be colored. The DuPont company patented this type of plastic in 1937. Ages well compared to most other plastics.
Luster: The way a stone reflects the light. There are different types of luster including: greasy, pearly, waxy and metallic.
Mabé Pearls: A cultured pearl that grows on the shell of an oyster. The result is a spherical shaped pearl with a flat back.
Machine Age: An era between 1925 to about 1928 when design lines were simple and austere. The Paris Exhibition and the Worlds Fair in New York, NY USA occurred during this period. One prominent jewelry designer was Jacob Bengel.
Malachite: An opaque light to dark green mineral that is used as a source for copper and that has been used for making jewelry for thousands of years.
Malleable: Means that a metal can easily be worked with a roller or a hammer.
Maltese Cross: The badge of the Knights of Malta, it is a cross formed by four arrow heads meeting at the points.
Mandrel: A bar or a spindle that is used to retain the shape of a cavity during the milling process. Can also be used to reshape a ring or to stretch the band of a ring.
Mantilla: Originally a head scarf meant to cover the head of a Catholic woman. Mantilla head combs are usually long, but can be found in a lower profile. They were originally meant to be worn with a scarf. During the Art Deco era, Auguste Bonaz made some of the most striking and sought after mantilla style hair combs in celluloid and galalith.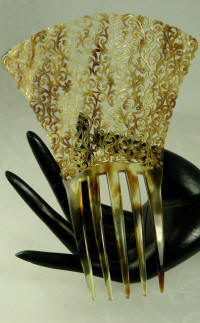 Auguste Bonaz Art Deco Mantilla Style Celluloid Hair Comb
Marble: A rock that is hard, crystalline and metamorphic. It is used as a building material, for ornamental objects and it polishes to a high shine.
Marbled: A pattern with streaks or swirls that resemble a marble.
Marcasite: A mineral that has the same chemical formula as Pyrite, however it differs in chemical structure. The mineral form of marcasite is not usually used for jewelry. Marcasite [iron pyrite] used for jewelry is shiny with a metallic appearance. Sometimes used as a substitute for diamonds.
Mariner Link Chain: A chain with a series of oval links. Each oval has a bar down the center.
Marquise: A stone that is cut in the shape of an oval with pointy ends. Also called a "Navette" this cut was named after the mistress of King Louis the XV, Marquise de Pompadour.
Matinee Length: A single strand necklace that is 20 to 26 inches long.
Matte: A finish for jewelry that is also known as brushed. The top layers of the surface is scratched creating lines. This finish reduces the surfaces reflectivity.
Memory Wire: A metal wire that retains its coiled shape. It looks like a slinky and is often used for making bracelets.
Mesh: A type of fabric that has a net like appearance. It is created by weaving thin wire together.
Metal: A solid element that conducts electricity and is malleable and ductile.
Metallic: A metal like finish applied to beads, fabric or yarns. Also any material that contains metal is called metallic.
MFA: Museum of Fine Arts ~ located in Boston, MA.
Mica: A mineral that has perfect cleavage in one direction, There are several different types and a variety of colors. They are used as an electrical insulator and in the manufacturing of heat sensitive materials.
Micromosaic: A mosaic or picture made from very small pieces of tile, glass or stone called tesserae.
Millefiori: Italian for "a thousand flowers". It is an old technique using colored rods that are fused together. They are cut and embedded in glass.
Milligrain Setting: A type of setting in which tiny beads or grains of metal secure the gemstone. Bands made of tiny beads of metal are also used in this way.
Mine Cut: A type of cut that was used for diamonds in the 1800's. It has a cushion or square shape rather than the round outline of more modern cuts.
Mineral: A naturally occurring substance that is not animal or plant. It is inorganic.
Mixed Cut: A style of cut where the facets are different below and above the girdle of the gemstone
Modernist Jewelry: A wide ranging term that describes jewelry produced by some, during various artistic and social reform movements that was broad culturally beginning with the Arts and Crafts Movement of the 1890s. The movement began as a rebellion against the 19th century academic way of thinking and evolved into a wide movement that embraced change and technology as well as new ways of thinking about art and artist. This jewelry was usually hand-made rather than mass produced. American Modernist artists during the mid- 20th century had many of the same social and artistic concerns. This movement was concentrated in Greenwich Village, New York, although not limited to this vibrant, avant garde locale. Simple geometric lines and Biomorphic designs are two examples of this type of jewelry.
Mohs Scale: Measures a substances hardness and resistance to scratching. It was invented by Friedrich Mohs of Austria. The range used is 1 to 10. The number one represents Talc which is the softest, while 10 represents diamonds, the hardest. A substance is harder than another if it can scratch it. A diamond can scratch Talc or a ruby for example but neither can scratch a diamond.
Moissanite: Silicon Carbide used as a gemstone. It is a hard mineral [crystal]that ranges in color from colorless to yellow and blue, green. It looks like a diamond and will sometimes tests as one. Moissanite can be synthetically produced.
Moldavite: A dark green gemstone found in the Czech Republic. It was formed when a meteorite hit the earth and fused with the rocks already present.
Molded Cameo: Cameos that are not carved, but rather formed in a mold. They are usually plastic, porcelain or glass.
Mollusk: Invertebrate animals such as a snail, oyster, clam or squid. They have soft bodies that are usually enclosed in a hard shell.
MOMA: Museum of Modern Art, New York City.
Monoclinic: A crystal structure where the vectors [the crystal system] are of unequal length. Two of the vectors are perpendicular while the third vector makes an angle that is not 90° with the plane that the other two vectors form. Jade and moonstone are monoclinic.
Montana Ruby: Is not a ruby, but rather a pyrope garnet.
Moonstone: A translucent gemstone with a pearly luster. It is a feldspar and is usually cut in the cabochon shape. It is monoclinic and was very popular during the Art Nouveau period.
Morganite: A pink variety of beryl that contains manganese. It was named after J.P. Morgan, the American industrialist who also collected gems.
Mosaic: Decorative art made by cementing small pieces of tesserae [glass, stone or tile] onto a surface.
Moss Agate: Is a chalcedony that is semi-transparent to opaque and green in color with some white or clear inclusions. It is also called mocha stone.
Mother of Pearl: The inner coating of a mollusk that is scraped off and used for jewelry, inlay for furniture and other items.
Mother's Ring: Rings that mother's have personalized with the birthstones or names of their children.
Mottled: A surface that has splotches, dots or variegation.
Mount: To fit a stone into a setting.
Mounting: Metal that holds a gemstone into place.
Mourning Jewelry: Jewelry that is worn in remembrance of a departed friend or loved one. This type of jewelry is usually black and became popular after Queen Victoria's husband Prince Albert passed away. Victoria went into very deep mourning and wore black during this period. This type of jewelry was made out of bog oak, gutta percha, jet or black glass. Hair jewelry is also considered mourning jewelry.
Nacre: The calcium carbonate substance that a mollusk secretes around an irritant. This substance over time forms a natural pearl.
Natural Pearl: Formed over years by a mollusk as a reaction to an irritant such as sand.
Navette: The same as a marquise cut stone. The terms are used interchangeably.
Necessary: A small purse like object usually worn on a chatelaine. It held objects such as rouge, a pencil or coins.
Necklace: Jewelry worn around the neck.
Negligee Pendant: A lavalier necklace.
Neoclassical: A revival of ancient Greek and Roman style.
Nephrite: A green to white rock that is hard and is one form of jade. It is also called "greenstone". Nephrite can also be found in other colors including brown and it often has veins.
Nickel Silver: An alloy of zinc, copper and nickel that was invented in Germany as a substitute for silver. Also called "German Silver". It does not contain silver.
Niello: Is a black substance comprised of sulfur, silver, copper and lead used to fill in an engraved design. This process has been around since ancient times.
Niello Sterling Silver Cufflinks and Tie Bar Set
Noble Metal: Metals that do not corrode and that are resistant to oxidation. These metals are gold, platinum and silver.
Nonmetallic: Refers to a material that contains no metal.
Nose Stud: Jewelry worn in a pierced nostril. Usually a ball, stone or a post.
Nugget: Describes a piece of irregularly shaped precious metal.
Obsidian: A dark or sometimes clear volcanic rock that forms into glass by fast cooling lava. It was used in ancient times to make sharp tools.
Oiling: An ancient technique that is used to improve a gemstones color. Mostly used on emeralds, it is the process of applying oil to the stone to fill in the cracks, thereby improving the clarity and helping to prevent brittleness.
Old European Cut: A style of cutting a stone that was popular in the 1800s. It is a round brilliant cut and has 58 facets. This cut has a high crown, a deep pavilion and an open cutlet.
Old Mine Cut: A style of cutting a stone into a cushion shape with a high crown.
Onyx: A semi-precious stone that is a variety of Chalcedony. It is banded or layered in black and white. Some Onyx can be found naturally, however some is produced by staining agate. It is often used to make intaglios and cameos. Also used for making beads.
Opal: A semi-precious amorphous [non-crystalline] variety of silica. They are also comprised of water which makes them easy to crack. The characteristically display an ability to change colors and have a distinctive iridescence. Opals also have inclusions of several colors or "fire".
Opalescence: Describes a minerals ability to exhibit different colors like an opal.
Opaque: A substance that is impenetrable by light.
Open-work: Is similar to filigree. It has a design that is open in spots.
Opera Length: A single strand necklace usually pearls that can range in length from 28 to 35 inches. Also describes necklaces up to 90 inches in length.
Oriental Pearl: Refers to a natural pearl that is formed without human intervention.
Ormolu: An alloy of copper, tin and zinc that is used as a gold substitute. French for ground gold. It is gilt bronze that is used to decorate objects. Also called bronze doré.
Oval Cut: A style of cutting a stone into a elliptical shape.
Oxidation: A chemical reaction to oxygen that causes metal to darken or rust.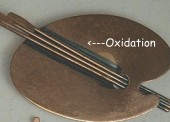 "Renoir" Palette Brooch with Oxidation [black Streak]
Palladium: A metallic element that belongs to the platinum family. It is silver white and does not unless heated. It was first used for jewelry making in 1939 as platinum was being used for WWII efforts. Palladium is often alloyed with gold. The marks Pd will appear before a number on jewelry made with palladium.
Palmette: A common motif in Greek and Persian art. It is based on the shape of a palm leaf.
Paper Roule: Rolled up paper, usually triangles that are shaped into beads.
Party Case: See Carry-all.
Parure: A matching set or a suite of jewelry. The number of pieces necessary vary. A full parure is now known as a matching necklace, bracelet, earrings and a brooch. Two bracelets were necessary for a full parure in earlier times. Parure is French for "personal adornment".
Paste: A term used to describe glass that is used to imitate gemstones. This term has been in use since the 18th century.
Paté de Verre: A process of grinding glass to a powder that has been around since the ancient times. A binding agent is added to the powder, creating a paste. It is then colored, put into a mold and fired. This process became popular again during the Art Nouveau time period.
Patina: A change in the surface appearance of an object due to oxidation, age and wear. Patina can be naturally occurring or artificially applied. Removing natural patina can sometimes lessen the objects value.
Pavé: A style of setting gemstones very close together so that the metal does not show.
Pavilion: The pointed section of a gemstone that sits below the girdle. Usually this is the lower portion of a set stone, it ends with the cutlet. Henry Schreiner of New York City made jewelry with this portion set face up.
Pavilion Height: The distance from the girdle to the bottom or the cutlet of a gemstone.
Peacock Pearl: Is a very dark green pearl that like other black pearls is produced by an oyster
Pear Cut: A type of gem stone cut that resembles a tear. It is rounded on one end and pointed at the other.
Pearl: A natural mass that grows within a mollusk as a result of nacre production. The nacre or mother of pearl is produced as the reaction to a foreign particle. The foreign object is coated with this lustrous substance. It can take years for a pearl to be formed by this process. The most sought after pearls are perfectly round. There are three types of pearls: cultured, natural, and simulated. Pearl names: Oriental, baroque, Mabe, blister, freshwater, Awabi and seed pearls.
Pearlescent: Iridescent. Resembling a pearl or nacre in luster. Having a play of a rainbow of colors like an oil slick.
Peking Glass: Describes a type of glass that is opaque to transparent. It was first made in China in the 1600s to imitate porcelain.
Penannular Brooch: A type of brooch that is circular and has a gap. There is a pin attached to the circle. They were used to fasten material, usually a cloak. They are a type of Celtic jewelry.
Pendant: An adornment that hangs from a necklace, bracelet or an earring.
Petrified Wood: Fossilized wood or wood which has had its original tissue replaced by rock.
Pewter: A metal alloy that is also called "antique silver". At one time pewter was mostly a lead alloy. It is now copper, 90% tin and antimony.
Pierced: Punching a hole through an object. As relating to jewelry patterns are cut out of the metal with a chisel or other object leaving an attractive pattern behind.
Pierced Earrings: Earrings that are meant to be worn through a hole in the ear lobe.
Pietra Dura: A technique of inlaying popular in Italy. It is the process of inlaying hard stones into softer stones or furniture.
Pin: Jewelry items that are attached by means of a rod, catch and a hinge mechanism. Also called brooches. Jewelry items can sometimes be dated by the pin mechanism.
Pinchbeck: An alloy of tin, zinc and copper that was developed by Christopher Pinchbeck in the 18th century. It was used in jewelry making to imitate gold.
Pique: A style of decoration where tortoise shell or ivory is inlaid with silver, gold or mother of pearl. This style was popular in the 18th and 19th centuries.
Plating: Coating one metal with another by using electricity.
Platinum: A silvery-white precious metal. It is the rarest of the precious or noble metals and it is harder and has a higher melting point. It is not easy to alloy or work with this metal. jewelry made out of platinum is usually 90% to 95% pure. Platinum is hypoallergenic and it does not easily tarnish. The mark used in western countries to signify platinum is PLAT.
Pleochroism: A phenomenon in which a stone will show several colors when viewed from different angles.
Plique-à-jour: A form of enameling similar to cloisonné that was popular in Art Nouveau jewelry. The transparent enamels are held in place by metal wire around the edges and has no background. It resembles stained glass. René Lalique was considered the master of this technique.
Poesy: A ring or other item of jewelry that was popular during medieval times. It usually had a love poem or verse inscribed on or in it.
Poincon: A mark that is placed on silver and gold jewelry or articles in France to identify the purity of the item. It is similar to the English hallmarks.
Point: A unit of measure used to describe gemstones. It is the smallest unit equal to 1/100 of a carat or 0.002 gram.
Poison Brooch: A brooch that looks like a normal brooch but has a top that opens on a hinge and that could have held poison.
Poison Pendant: A pendant that appears normal, but is actually a box with a hinge that can open to reveal a place that poison could be placed.
Poison Ring: A ring whose top opens on a hinge and could have held poison. The ring looks like a normal ring when the top is closed.
Polychrome: A decoration or a design that has three or more colors.
Porcelain: Clay to which kaolin has been added and fired at a high temperature
Porous: Having tiny holes that allow substances to be absorbed.
Post: An earring finding that is attached to the back of a ear stud and is intended to pass through a hole in the ear.
Pot Metal: An alloy of copper and lead that was used to make pots. It is also called "white metal". It was also used to make inexpensive jewelry.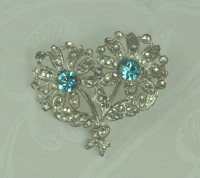 Pot Metal Double Floral Pin
Poured Glass: A technique in which hot glass is poured into the setting. On a piece of jewelry using this method you will see some of the spillover on the reverse of the item.
Prayer Ring: A ring whose top opens on a hinge and could have held a piece of paper with a prayer written on it. The ring looks like a normal ring when the top is closed.
Precious Metal: These are metals that are valuable and rare. The precious metals include; silver, gold and platinum.
Precious Stone: Is a gemstone that is rare and valuable.
Pressed Horn: Bone/natural substance usually from an animal that is light in weight. It can be dyed and is used in jewelry and hair ornaments.
Pressed Powder: Made poplar in the 1920s and 1930s, this is powder that has been compacted and dry. This product is In use today.
Pressed Horn: Bone usually from an animal that is light in weight. It can be dyed. It smells like burning hair when heated. It is used to make jewelry and hair ornaments.
Princess Cut: A newer fancy cut stone that is square and has sharp corners. It is a modification of the brilliant cut.
Princess Length: Usually describes a pearl necklace that is 17 to 19 inches in length. This length is said to be versatile enough to wear with anything.
Promise Ring: A ring that is inexpensive and when worn implies that the girl/lady is in a relationship that is serious. Also called a "friendship ring" and a "pre-engagement ring".
Prong Set: A type of jewelry setting where wire claws hold the stone in place.
Prystal: Imitation glass crystal made of plastic.
Pyralin: An early plastic.
Pyrite: A yellowish iron sulphide mineral that is common. It is often mistaken for real gold. Also called "fools gold".
Pyrope Garnet: From the Greek for fire and eye. A blood red garnet that was popular in Europe in the 19th century. It is a mineral that contains alumina magnesia. Used as a gemstone in jewelry. It is the only member of the garnet family to always display red colors in natural samples. 7-7.5 on the MOHS Scale
Quartz: A mineral that is plentiful and is compose of silicon dioxide. Quartz will be clear if there are no impurities. It has a hexagonal crystal system. There are several forms of quartz including; amethyst, aventurine, carnelian and tiger's eye.
Quartzite: A hard crystalline rock that is formed by sand [quartz grains] that has fused together.
Radiant Cut: A type of stone cut that has 70 facets. It is rectangular in shape like the emerald cut and is a type of brilliant cut fancy shape stone.
Rainbow Obsidian: Iridescent obsidian.
Refraction: The process of bending or changing the direction of light so that it enters and object in one direction and leaves it in another. The speed is also changed.
Refractive Index: A number that describes how fast light passes through an object. The number is assigned to the object such as a gemstone.
Regard: An item of jewelry that contains six gemstones whose first letter spell out the word "regard".
Relief: An object that has a design that protrudes from a flat surface such as a cameo.
Renaissance: Defines a period in Europe of rebirth and renewal between the late fourteen hundreds in Italy to the fifteen and sixteenth century in the rest of Europe. This period was a a transition from the Middle Ages to the Modern Age. Arts, literature, and medicine was at the forefront.
Repoussé: A method of metal decoration in relief that is achieved by pushing the relief out from the back. The design is raised on the front.
Retro: Jewelry from the mid 1930s and 1940s which had a bold and lavish look. Often geometric and made with colored gold or vermeil.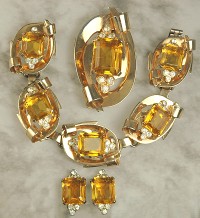 Jeray Sterling Parure
Reverse Carved Lucite: Lucite that has been carved on the back and painted.
Rhinestone: Synthetic stones or imitation diamonds made from glass, acrylic or high quality crystal that is faceted. They are called "Strass" in German.
Rhodium: An expensive silver- colored shiny metal that belongs to the platinum family.
Rhodochrosite: A soft mineral that is rose pink to light pink and has cream colored banding.
Rhodolite: A durable, rose to violet gemstone. A form of garnet.
Rhodonite: "Rose" in Greek, it is a pink to red mineral that is opaque and can have black inclusions.
Ring: Jewelry that is worn around the finger.
Ring Guard: A ring that is worn to keep a more valuable ring from slipping off the finger.
Ring Size: A measurement of a ring so that a person will know which ring will fit on tier finger. A mandrel is used to determine a ring size and to gently reshape or stretch a ring.
Rivet: A technique used for joining two flat objects together when soldering is not advisable or wanted. For instance a pin mechanism to a backing. Holes are drilled into the flat objects and a flat head pin is inserted and pounded to secure the objects.
Rock Crystal: The purest form of quartz.
Rolled Gold: A jewelry term for gold filled in Europe. A thin layer of gold is laminated to a layer of usually brass.
Rolo Link Chain: A type of chain with individually linked ovals or circles.
Rondelle: A jewelry finding that is disc shaped an often studded with stones. They are used as spacers between other beads.
Rhinestone Rondell Between Swarovski Glass Pearls
Rope: A pearl necklace that is over 40" long.
Rope Chain: A type of necklace chain that looks like a rope because of the way the small links are arranged.
Rose Cut: A type of diamond cut developed in the 16th century that has a flat base and triangular facets. Today this style is used mostly in for smaller diamonds.
Rose Gold: Or pink gold is gold that has been alloyed with copper and silver giving it a pinkish look.
Rose Quartz: A translucent variety of quartz that ranges in color from deep red to pink.
Rough: Crystals or stones that have not been polished or cut.
Ruby: A gemstone that is a red form of corundum. It is highly valued and natural rubies are rare. One of the precious stones they are hard and it takes an expert to tell the natural from the created.
Russian Gold Finish: Jewelry with a finish that looks like antique gold tone metal. The appearance is matte. Miriam Haskell jewelry was often made with this finish.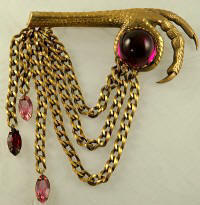 Joseff of Hollywood Russian Gold Plated Chatelaine Shoulder Brooch
Rutilated Quartz: Quartz with inclusions called rutile crystals, that look like hair, imbedded within them.
Safety Catch: A second closure, for an anklet, a bracelet or necklace that is designed to keep the piece from falling off should the primary fastener fail.
Safety Chain: A second closure, for a bracelet or a watch which has a chain with a clasp [usually a spring- ring] that secures one side of the item to the other. They are designed to keep the piece from falling off even if the primary closure fails.
Safety Clasp: A term used to describe a number of jewelry findings that are meant to secure a piece of jewelry to the neck, wrist of ankle.
Sand Casting: A method of producing metal castings out of sand molds.
Sandstone: A rock that forms when grains of sand get fused together. They will be coarse grainy rocks. The minerals and type of rocks found in the area will determine their color and behavior.
Saphiret: An opalescent stone that has a bi- colored appearance showing colors from tan to blue. Melted gold was mixed in with the sapphire colored glass. Created during the 19th century in Gablonz. Later stones were produced in Germany.
Antique Saphiret Pin
Sapphire: A member of the corundum family that comes in a variety of colors. The most common is blue. They hard and are one of the precious stones.
Sard: A variety of chalcedony that is red to brown in color. It is a semi- precious stone and is often carved intaglio.
Sardonyx: A variety of quartz. It is a semi- precious stone that is formed by alternating layers of sard and onyx. It is used to make cameos.
Satin Finish: A jewelry finish that is semi- gloss. It is somewhere between a bright finish and a matte finish. This finish is created by using a tool to scratch parallel lines onto the metal's surface.
Saturation: How the amount of color present in a gemstone is measured. The higher the saturation of color the more the stone will be worth.
Sautoir: A long necklace in vogue beginning in the Edwardian era usually made of chains, seed pearls or beads and ending in a tassel. Also called a rope. It usually extended beyond the waist
Glass Beaded Sautoir Necklace
Scalloped: A decorative border of a series of semicircular projections.
Scarab: A type of beetle that the ancient Egyptians thought was a fertility symbol. Much of the decorations including jewelry of the day was made or carved in the shape of this beetle. Jewelry using the scarab motif became popular during the 1920s Art Deco period in the West following the discovery of King Tut's tomb.
Scatter Pin: A small pin that is to be worn with one or more like sized pins.
Scepter: A staff [usually jeweled] carried by a ruler to signify power and authority.
Screw- back: A type of earring finding that tightens the earring to the ear using a flat screw.
Seed Bead: A very small glass or plastic beads usually used as spacers. They are usually 2mm or less and can be strung alone. They can also be used to cover findings and they can be clustered.

Green Glass Seed Beads Wired to Russian Gold- Plated Backing
Seed Pearl: Very small natural or imitation pearl that is usually used as a spacer with other beads or pearls. They can also be used to top beads as Miriam Haskell did or as the Victorians did, they can be used to weave onto other materials.
Seftonite: A variety of chalcedony that is green.
Selenite: A crystalline variety of gypsum that is soft and near colorless.
Semi- mount: A piece of jewelry that is finished except for the center stone. This allows the buyer to finish the piece with a stone of their choice.
Semiprecious: A characterization of gemstones that are not in the precious category. Some of the semiprecious stones are: garnet, opal and amethyst.
Serpentine Chain: A chain made up of two layers of flat "S" shaped links that are placed very close together.
Setting: Describes how a stone or other material is held in place. Some examples of settings are: bezel, channel, prong and pavé. They can be closed or open. If open, the backs of the stones will show through and more light will be able to shine through the stone.
Shank: The part of the ring that goes around the finger.
Shoulder: The part of the ring that is between the shank and the center of the setting.
Signet: A means of identification, a signet was usually a carved design worn on a ring. The design would serve as the identification and was used to sign or authenticate documents.
Sifter: This apparatus sits inside a powder well of a compact. it is either mesh or gauze and is mounted on a frame. It allows one to dispense a small amount of powder at a time.
Sifter Box: A term from the 1920s and 1930s that was used to describe a loose powder compact.
Silver: A soft shiny metal that is white in color. A precious metal and is the metal with the highest electrical and thermal conductivity. Silver tarnishes easily.
Silver Tone: Metal that has a silver color.
Simulated Stones: A natural or synthetic stone that is meant to imitate a gemstone.
Slate: Usually formed from shale, it is a fine grained rock that has been metamorphosed. Slate is usually cut into slabs.
Sleeper: A small hoop used to keep the hole of a freshly pierced ear open.
Smoky Quartz: A brownish natural quartz with a smoky appearance.
Snap Bar Closure: A type of earring closure. A thin bar that lifts up and down to hold the earring in place or to release it.
Snake Chain: A metal chain that is made up of small wavy circular links that when placed together form a flexible tube with a finish that resembles snake skin.
Sodalite: An opaque denim blue colored stone that exhibits some white veining due to calcite. They often will show a fleck or two of pyrite.
Soldering: Metal with a low melting point is heated and used to join other metals together.
Solitaire: A single gemstone or diamond mounted in a simple setting.
Souvenir Jewelry: Jewelry that is made for tourists. Many jewelry companies and designers made this type of jewelry.
Sparkle: The measure of the amount of light that passes through a diamond or stone when it is moved and viewed at different angles.
Specific Gravity: A density measurement. The item being measured has it's weight compared with the weight of an equal quantity of water.
Spessartite Garnet: An orange to varying shades of red, brown and yellow garnet composed of alumina manganese.
Spinel: A hard mineral that crystallizes in the isometric system with an octahedral habit. It is found in a variety of colors often resembling a ruby and was used a lot for medieval jewelry.
Split Ring: A jewelry finding and used for key rings it is a ring with a opening or split that allows for attaching charms or keys to bracelet, necklace or to a ring.
Spray Brooch: Long stemmed floral brooches with jewels and long leaves.
Spring Ring: A common jewelry finding for joining two ends of a necklace, bracelet or anklet together. They are hollow metal tubes in the shape of a circle. The tube contains a small wire and a spring that holds the wire in place. There is an arm on the tube that is attached to the wire inside the tube. This arm allows one to open or close the clasp. They were invented in the 1900s.

Spring Ring Clasp
Square Cut: A method of cutting a gemstone that is similar to the emerald cut.
Squash Blossom Necklace: Navajo necklace that uses a pomegranate motif. Beads that look like squash blossoms are placed around a crescent shaped pendant.
Stabilized Stones: Stones that have been injected with a liquid plastic and sometimes a dye to stabilize or fill cracks in the stone. This process improves the stones appearance by filling in its pores.
Stack Rings: Rings that are meant to be worn one atop another on the same finger.
Stamping: A method of embossing metal.
Star of Africa: The largest diamond to be found to this point. It is also called the Cullinan Diamond it was mined in South Africa in 1905.
Star Sapphire: Natural sapphire that exhibits a six rayed star that is colorless and reflect the light. This asterism can make the star sapphire if centered just so, quite valuable. They are usually cut cabochon.
Star Setting: A way of setting a stone in an engraved star by soldering. Popular in the 1890s.
Step Cut: A rectangular to square cut with many facets parallel to the edge of the stone. Similar to the emerald cut. The step cut is most often used for colored stones.
Sterling: To meet the industry standard, silver must contain 925 parts per thousand silver and 75 parts copper. If this criteria is met only then is the object considered sterling. The copper improves the silver's hardness.
Stick Pin: A straight pin often decorated on top that is worn vertically on the lapel, a hat, a tie or a scarf. Usually they have a clutch closure that can also be decorated.
Stippled Finish: A finish that is textured and formed by pricking the object with a steel punch.
Strass: Glass that is highly reflective and made to imitate gemstones including the cuts.
Striations: Naturally occurring lines, grooves or scratches found in a stone.
Stud: A type of earring that consists of a single stone on a straight post that goes through the hole in a pierced ear and then is secured with a clutch. A stud will not have a dangle or drop.
Sugar Beads: Beads used to make jewelry that have fine grains on the surface as if they had been rolled in granulated sugar.
Sunstone: A gemstone that varies in color from orange gold to reddish brown. It is a feldspar that is known for exhibiting a spangled appearance.
Surrealist Movement: An early 20th century [1924- 1945]European artistic movement that emphasized the power of the unconscious. This movement spread to America and Latin America as well. It was a revolutionary movement whose members strove to express the unseen world and to provoke political, social and cultural change.
Swedge: A method of constructing costume jewelry where many sections are attached with a rivet. A prominent design technique used by DeLizza and Elster.
Sweetheart Jewelry: Popular during World War Two. Usually a pin, but bracelets and compacts and more can be found, that was given to a loved one by an armed forces member on duty.
Coro Sweetheart in Service Sterling WWII Pin
Symmetry: [1] Refers to the quality of a diamond's cut [2] Refers to how similar one side of an object is to the other side.
Synthetic Stone: Gemstones that are made in a laboratory. It is difficult to tell these apart from natural stones because they contain the same chemical characteristics as they natural stones they imitate. These are not fake stones and they usually lack imperfections.
Table: The large flat area at the top of a cut gemstone.
Tanzanite: A mineral discovered southwest of Mt. Kilimanjaro in Tanzania Africa in 1967. It is blue violet brilliant type of zoisite and transparent. They look a bit like a sapphire.
Tapered Baguette: A baguette cut where on end is smaller than the other.
Tarnish: Discoloration of the surface of metal caused by a thin layer of dirt or reactions between the metal and chemicals.
Tassel: A bundle of thread or chain that are secured or bound one end and left to dangle loosely on the other end.
Taxco: A town in Mexico famous for producing silver jewelry. This town in Guerrero is where American William Spratling opened a shop in 1929. Other silversmiths followed and soon this town became the center for silver jewelry making. Early [prior to 1970] Taxco jewelry is highly collectable. In 1979 the Mexican government required that silver be stamped with a registration mark and a series of numbers.
Temper: A method used to harden or strengthen metal by heating and cooling it.
Template: A pattern or standard layout that is used to create a document or to trace a design.
Tennis Bracelet: A diamond or gemstone chain bracelet that is flexible and set with stones that are uniform in size. Tennis star Chris Everet has been given credit for this name because of the day at the US Open Tennis Tournament when she dropped her diamond bracelet and had to ask for a time out on the court to find it.
Tessarae: Small pieces of tile, glass or stone that are made into a mosaic.
Thermo Plastic: Plastic that can be easily molded and shaped when heated. Celluloid [cellulose nitrate] Acrylic or Lucite, Cellulose Acetate and polystyrenes are examples of thermo plastics.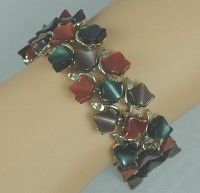 Thermoplastic Bracelet
Thermoset Plastic: Plastic that once heated cannot be melted upon reheating. They will burn instead. Bakelite is a thermoset plastic. Casein and epoxies are other examples.
Tiara: A headpiece that looks like a crown, however it is semi-circular. They are usually jeweled or embellished and worn on special occasions.
Tie Bar: Sometimes called a "tie clasp", it is a gentleman's accessory that secures a necktie. It usually will have a decorated top and a clip on the back. The clip is used to hold or grip the tie.
Tie Tac: Also written as a "tie tack". This is a pin that secures a necktie to a shirt. The top is usually decorated with a pin and clutch attached.
Tiffany Setting: A ring with a high six prong setting that uses slender prongs to hold the stone. This setting was introduced by Tiffany & Co. in 1886.
Tiger's Eye: A member of the quartz group that exhibits changeable luster. This chatoyant quality is caused by the way the bands of light and dark color on the surface of the stone catch the light. They are opaque and usually brown with lighter bands. They are seen in yellowish- brown, reddish brown and blue.
Tin: An inexpensive malleable metal that is silvery in color and resists corrosion.
Titanium: A metal element that is silvery- gray in color and very strong. Called the "space age" metal is is 50% lighter than steel.
Toe Ring: Toe rings are jewelry that is worn on one or many toes. It is a band with a split in it to allow the ring to slip on and off of the toe easily. Toe rings fall in the "body jewelry" category.
Toggle Clasp: A jewelry finding that is intended to join two sides of a bracelet, necklace or an anklet. Also called the bar and ring clasp because there is a bar that is inserted into a ring. The bar sits atop the ring and keeps the jewelry item secure.
Tongue Bar: Body jewelry. A bar stud that is intended to be worn on a pierced tongue.
Topaz: A compound of silicate, aluminum and fluorite it is hard and transparent. They are found in many colors including blue, white and the prized yellow-orange Imperial Topaz. This gemstone possesses double refraction and impressive luster. Topaz are often heat treated to improve their color.
Torque: A ridged necklace that is often open in the front. The ends of the openings are usually decorated. Also spelled "Torc" these necklaces were worn by the Gauls, the Celts and the Britons. They were often wrapped or twisted and of metal.
Torsade: A necklace with many strands that are twisted together before applying the end cap.
Tortoise Shell: The protective shell of certain turtles that is medium brown and can have specks or lines that was popular for jewelry and hair ornament making in the 1800s. It can be heated and molded. This material burns easily and it is now banned. Tortoise shell is often imitated using plastic.
Tourmaline: A crystalline mineral that is found in many colors although usually black. They have the greatest color range of any of the gemstones. Derived from the Singhalese word "turamalli" which means carnelian. When found in red or green varieties that are transparent, they are considered valuable. Watermelon Tourmaline is both green and pink.
Trademark: A mark [name, design, phrase or symbol] that is on file with the United States Patent Office and identifies a retailer or wholesaler. Identified by the ® mark. This mark legally restricts anyone but the owner from using the mark. Use of the ™ symbol next to the trademark tells all that the owner of the trademark rights within the mark. There is no need to register to use the ™ symbol.
Transitional Jewelry: Jewelry styles that overlap eras, not neatly fitting into any one in particular.
Translucent: A surface that some light passes through, but one cannot see through it. Examples include opals some plastics and moonstones.
Transparent: A surface that allows light to pass through and you can see through the surface. Examples include diamonds, rubies and some plastics.
Transvaal Jade: A large variety of grossular garnet that is gray to green and found in South Africa. It is very reflective, however it is not jade.
Tree Agate: Agate with green and brown patterns that look like tree foliage.
Trembler: A piece of jewelry with a part that moves. The moving part is set on a spring mechanism causing it to move when the wearer moves. Coro and Trifari [among others] trembler pieces are very collectable.
Trillion Cut: A brilliant cut triangular stone with 44 facets.
Triplet: A stone that is manufactured by layering and fusing three thin sections of stones together.
Troy Weight: Measurement for precious metals. The units are: pennyweight, ounces and pounds. These measurements are not the same as US measurements.
1 Pennyweight = 24 grams = 1.5552 grams
1 Troy ounce = 20 pennyweight = 31.1035 grams
1 Troy pound = 12 Troy ounces = 373.24 grams
Tsavorite: A relatively new gemstone that was discovered in Kenya in 1960. It is a transparent green member of the garnet group. They are similar to an emerald except that they are rarer. They also have a higher refractive index and they are more durable than an emerald.
Tube Catch: Also called the Trombone clasp it is a jewelry closure finding popular in the 1890s. It can also be found on 1940s European jewelry.
Turquoise: A semi precious opaque stone that has a bright blue- green color. It is highly prized and was/is a popular choice for making jewelry in several cultures. It is a hydrated phosphate of aluminum and copper. Turquoise stones that appear flawless were probably manufactured by using pulverized turquoise that has been reconstituted with a plastic binding agent. Streaks in the stones are usually gray or brown and are caused by the matrix or the stone from which they were mined. The Persian or Iranian turquoise has no matrix.
Ultrasonic Cleaner: A machine that cleans jewelry without scratching the surface of the piece. A fluid is vibrated at 20,000 cycles per second.
Unakite: A form of granite that is made up of pink feldspar, quartz, and green epidote. it is found in Africa and the USA.
Urea Bakelite: A form of thermoplastic.
Vabanite: Jasper found in California that is brown with yellow flecks.
Valadium: Stainless steel that is so fine it resembles white gold.
Vanity Case: A case that is meant to allow one to carry cosmetics and other items. It was usually rigid.
Variscite: Hydrated aluminum phosphate that is rare and often confused with turquoise. This rare and translucent mineral is sometime used for jewelry.
Venus' Hair Stone: Rutilated quartz or rock crystal.
Verdigris:
A green or greenish coating that develops on metal . Sometimes it is desirable as in aged copper. When found on most jewelry it is considerable damage. There is verdigris paint that is used to give some items, mostly copper and aged finish. Some call verdigris patina.
Vermeil: Silver and to a lesser extent bronze that has been plated with gold.
Victorian: The time in which Queen Victoria [b 1819] of England 1837-1901 reigned. This era was considered the height of industrial revolution. Many styles of jewelry were created during this time. Also during this time the British Empire expanded by war and colonization. This period is further divided into three periods.
Vitreous: Glass like.
Vintage Jewelry: Jewelry that is 30 years removed from the current date.
Volcanic Glass: Obsidian
Vulcanite: Plastic that is hard and black or brown in color that was popular for jewelry during the mid and late Victorian era. Many pieces of mourning jewelry were made from vulcanite. This moldable early rubber is also called "ebonite".
Watermelon Tourmaline: A gemstone that shows pink and green color. Watermelon rhinestones also exhibit these colors.
Water Sapphire: Is an iolite and not a sapphire. They are light blue, purplish blue or even yellowish gray. This is a soft mineral and one stone will show many colors.
Wedding Cake Beads: A type of lamp-worked bead originally made in Murano Italy. They are decorated with fancy overlays.
White Gold: An alloy of gold, nickel, copper, zinc, manganese, tin and sometimes palladium. It was intended to imitate platinum during WWII.
White Metal: An alloy of non- precious metals. Pot metal.
Xenolith: An inclusion.
Y Necklace: A style of necklace that has a dangle portion attached to a regular chain. This design looks like the letter "Y" when worn.
Yellow Gold: Gold alloyed with half silver and half copper.
YGF: Yellow gold filled.
Zinc: A bluish white metallic element. It is plentiful and brittle at room temperature. Once heated zinc is malleable. Zinc does not oxidize easily.
Zircon: A gemstone that is found in a variety of colors. Pure Zircon is colorless and most are brown.
Zoisite: An opaque gray-green mineral found in cracks of rocks. They can also have streaks of green and black.